Transport NSW
Alpine Road Status
LAST UPDATE: 11:00am, 13 June 2019
Kosciuszko Road
PERISHER ACCESS
Kosciuszko Road - Open to Perisher. Beyond Perisher, the road is closed.
Guthega Road (to Guthega Resort) - open to the Resort.
Alpine Way
THREDBO ACCESS
Alpine Way is open to Thredbo and beyond (Tom Groggin/Khancoban).
Note: All two-wheel drive vehicles are required to carry snow chains between Thredbo and Tom Groggin from Sat 8 Jun thru Mon 7 Oct 2019
Snowy Mountains Highway
SELWYN ACCESS
Snowy Mountains Highway - Open.
The Link Road (to Selwyn Snow Resort) - Open
Elliott Way (Tumbarumba to Selwyn) - Open.
Snow Season Road Closures
NOTE: The following roads are closed for the duration of the official NSW ski season:
Sat 8 Jun - Mon 7 Oct 2019
Kosciuszko Road between Perisher Valley and Charlotte Pass.
Cabramurra Road between Cabramurra and Khancoban turn-off.
Kings Cross Road between Mt Selwyn and Cabramurra.
Link Road between Smiggin Holes and Guthega Road.
Motorists are advised to be prepared and equipped for sudden changes in road and weather conditions in alpine areas, and also to exercise extreme caution when passing snow ploughs.
Road Cam
Kosciuszko Rd Wilson's Valley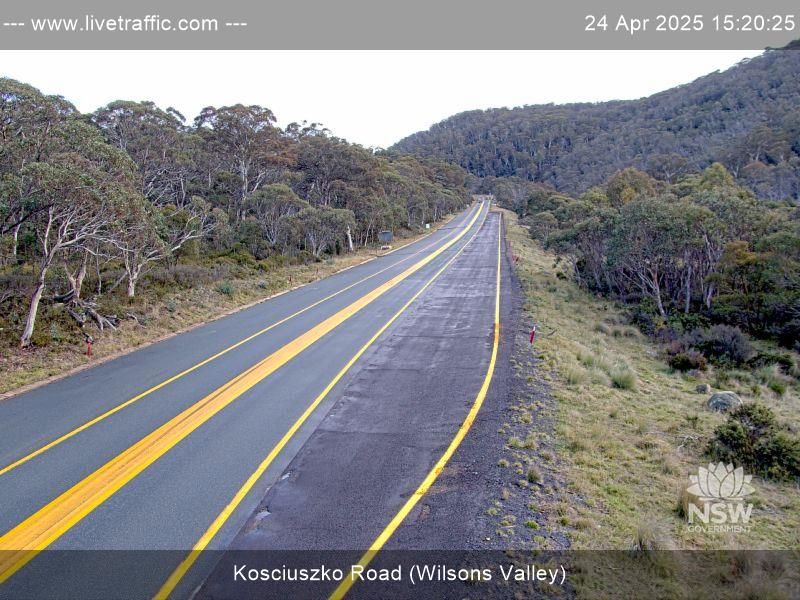 Transport NSW -

Road Safety Resources