We were planning to ski The Bluff last weekend, but decided at the last minute to head out towards Mt. Magdala and stay at Lovick's Hut. SO 4 of us (myself, two of my kids and a friend) camped up at Sheepyard on Friday night, before an early start to The Bluff gate on Saturday morning.
The weather was glorious, with amazing views of The Bluff, Buller and Stirling as we sweated our way up to Bluff Hut with skis on our backpacks. At Bluff Hut we put skis on, and continued East towards Mt. Lovick. Another warm climb and we crested the top of the track admiring the views all the way, then welcomed the ski downwards to Lovick's Hut. The track is fairly steep, narrow and twisty, so was a good fun ski down, especially with packs on!
We arrived just on 12pm, so after a quick lunch we continued on with day packs for Mt. Magdala, some 6km distant. Being down in the saddle, we had the big climb up towards King Billy, before turning off onto the Alpine Track and down the steep scrubby hill towards Magdala. Negotiating that on skis was quite interesting!
Then we dug in for the long and spectacular climb up to Magdala. The views over Cobbler, Koonika, Speculation, Buggery, Crosscut Saw, Howitt - magnificent! Finally we conquered the summit of Magdala and took the obligatory photos, before skiing the steep southern face of Magdala and heading back towards Lovick's.
Again, the steep climb to King Billy was quite strenuous, but the run back down towards Lovick's was great! The sight of the hut was most welcome as we arrived back just after 5pm. We gathered firewood and got a fire going in the huge fireplace. Normally we stay in tents, so to have a palace like Lovick's Hut at our disposal was fantastic!
We slept on the floor, and the Hut's resident antechinus kept us amused (and awake!) through the night as it explored the plates and pots we had left out on the bench, leaving little calling cards all the while.
Sunday morning we awoke to 15cm of fresh snow, and the whole landscape had been transformed! Snow showers came and went as we again slogged up the big climb to Mt. Lovick, and in between we had brilliant sunshine - just perfect. We skied right to the top of Mt. Lovick, and spent over an hour skiing the back slopes, which were just amazing with the cold fresh powder snow!
From there it was mostly downhill to Bluff Hut where we stopped for lunch and a cuppa, before a climb up Mt. Eadley Stoney for a few runs. The blizzard really closed in up there, and it was quite exhilarating standing at the cliff edge as the wind roared and the snow stung our faces.
Then it was time for a fast run back to Bluff Hut and a ski/walk back down to the car park. With all the snow it was quite interesting driving back over Refrigerator Gap! A great trip and spectacular scenery!
Crosscut Saw Pano
Near Magdala Summit
Near Magdala Summit
Lovick's Hut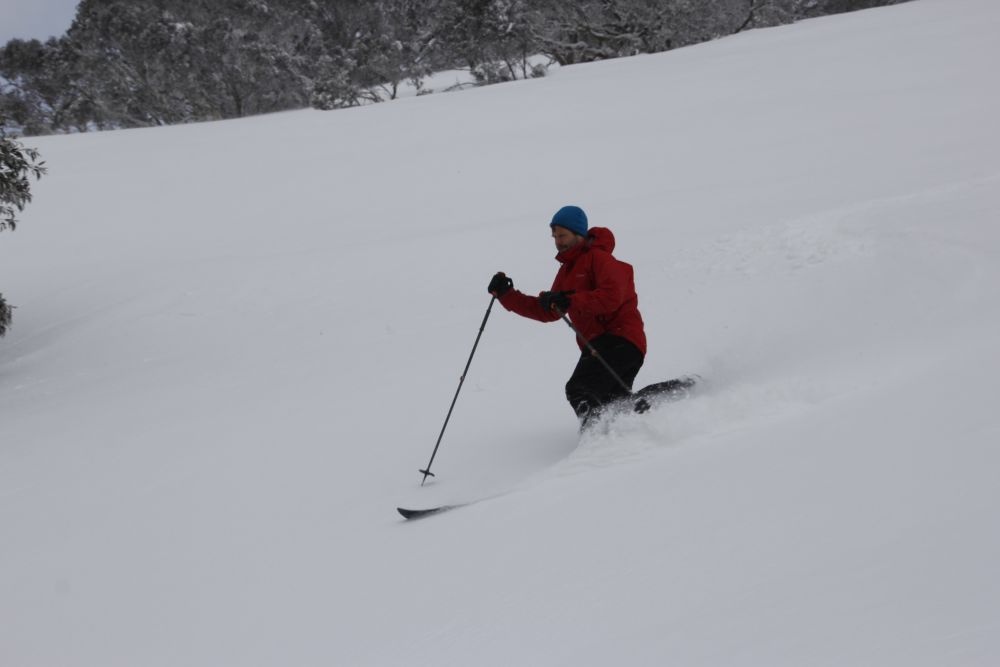 Putting in some turns on Mt Lovick
Bluff Hut
Mt Eadley Stoney
Putting in some turns on Mt Lovick
Putting in some turns on Mt Lovick
...and that's what it's all about!