With a fine weather window a few of us decided to make a day of it last Saturday and head to the hills. The Bush Patrol arrived in Canberra Friday night for a couple of single malts and war stories before crashing for the night. It was a 4.30am get up to ensure we kept time picking people up in Queanbeyan and Bunyun. We made it to Guthega at 8am where we met Rimey who like the Bush Patrol was carrying the overnight pack for a camp on the main range. Little did we know at that time it would take them between 5-8hours to make the camp! – but that is their story to tell.
Those two were left behind quickly as we travelled light and fast to the top of Twynam. On the skin up we had a chance to test the theory that chocolate works as a substitute for wax in preventing clumping. Surprisingly it worked really well!
Off the top of Twynam we hit the AAA at around 10.30am. Maybe 30mins to an hour too early as it was still a little firm in places but overall worth the effort for our first run of the day. The walk out of Watsons creek was like being in a sauna; sweat dripping on the nose and brow with every step as the elevation got steeper. Once over Tension Wood Knoll we met up with Snow Blowey, Climberman and Andrei for a run of the North side of the Crags. Snow was just about perfect and we all got great lines of 300m vertical, except for Climberman who spent about 40m of that vertical going head, feet, head, feet, head, feet after catching an edge. No harm was done though.
After a stop in the heath for lunch with perfect views over Anderson West towards the beast of the north, we skinned back up to the ridge and picked some lines into Walter's Gullly. Its a great area with perfect skiing on a great face with so many options. After that run we bid farewell to Blowey and the others as they headed back to Senitnel Camp. The remaining three of us had one last run down to Watsons Creek before heading back to the Snowy and onto civilisation. There was a quick stop by Woolies in Jindy to eat everything we could comfortably fit in the car and then it was off home. I finally made it into my driveway at 10pm – a huge day!
Its the biggest single day's skiing I have had on the main range. Key stats were:
Over 2200m vertical climbed
25kms+ travelled
10 hours of moving in some shape or another.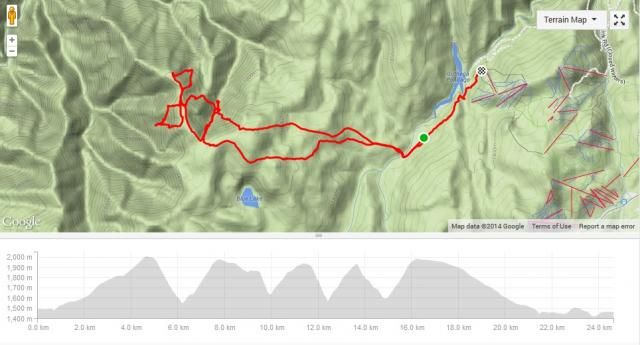 The video: